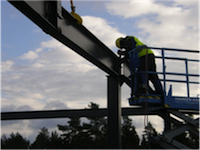 AM-ASENNUS OÜ is a company in Alu Metal Grupp, which carries out construction works as a sub contractor. The biggest clients are companies in Alu Metall Grupp who order installation of steel construction and other parts belonging to the constructions from us.
We are used to work with double responsibility as we are the ones who are responsible for the reputation of Alu Metall Grupp.
Main areas of construction:
Installation of steel constructions and frames for industrial and commercial buildings and warehouses;
Installation of plinths;
Installation of corrugated sheets;
Installation of sandwich- panels;
Installation of tin flats;
Installation of staircase railings with glass and wooden details belonging to the stairs;
Installation of other light metal constructions.