AM-Stairman OÜ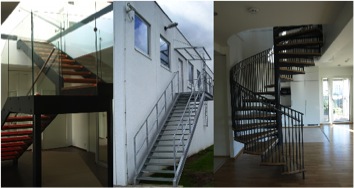 Outdoor stairs:
All stair constructions are from hot dip galvanized steel. Many stairs will be spray-painted according to customers' wishes.
Inndoors stairs:
All stair solutions have steel as bearing construction. Surfaces are usually spray-painted.
Treads
are produced according to customers' wishes and needs. First and foremost it's the question of taste and comfort – treads can be produced from wood, tile, grid or tear plates and glass.
Railings/handrails:
When delivering railings and handrails we take into consideration both customers' wishes and the whole stair concept. Railings are offered in glass, perforated sheets, steel posts etc. More information about railings you will find in brochure "Railings". Handrails are usually from varnished steel, acidproof steel, stailess steel, wood or aluminium.
Colours:
Steel parts can be painted according to customers' wishes and taste.