Ramps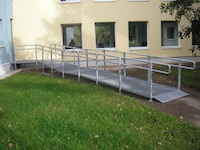 Taking into consideration the need of people with physical disability ramps are essential parts of the buildings. All ramps are produced according to valid standards and codes and fitted to the building's surroundings.
Dimensions:
The minimum width of the ramp is900 mm. A free space of at least 1500 x 1500 mm should be left at the upper and lower end of the ramp to allow turning around a wheelchair. After every 6 metres (in projection) there should be an interim platform with the length of < 1,500 mm (if the slope exceeds 5%).
Material:
In standard delivery 16 x 75 /30 x 3 welded grate is used on ramps. Other grate types can be used on customer's request. To ensure firmness of the grate and to avoid slipperiness the grate is always crosswise to movement direction. Flanks are made of angle steel. Stands of the ramp are made of rectangular tube and at the same time they are also the fender posts.
Railings:
Handrail height of 900mm, annex handrail height of 700 mm. Handrail is made of 40 mm diameter tube. You can also order handrails to be fixed to walls. When the ramp is next to a stair or a brink tube boundaries is used as an extra fender and it is fixed to the fender posts with screws.
Surface treatment
All steel parts are hot-dip galvanized. At the request of the contracting authority can also be ready painted .