Design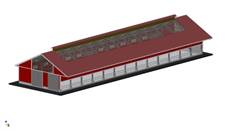 The stages of design:
Preliminary building design
The customer must have preliminary building design approved by local authorities before going ahead with the contract of services and design.
Basic project
The technical solutions will be specified to be able to calculate the costs of the object.
Work project
Work drawings are the basis for construction work. Standard details, drawings and work instructions, which will be specified if necessary, are used to develop the work project.